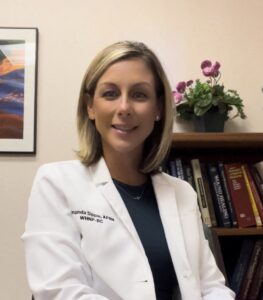 Amanda is a nurse-practitioner with extensive experience in esthetics.  In fact, she was a licensed esthetician before starting her education and nurse training that culminated in achieving certification as an APRN.   She has an independent practice in women's health in Falls City, Nebraska and helps here with nonsurgical rejuvenations.
Her focus is primarily with injectable fillers and neuromuscular agents to correct "frown lines"  and others nonsurgical improvements.
She enjoys working with patients and the public to better their health and confidence.
Office Location:
Michael D. De Priest, M.D. — PLASTIC SURGERY and SURGERY of the HAND
Plastic Surgery Center of Saint Joseph
2111 North Woodbine Road
Saint Joseph, Missouri – 64506-2440
Primary Phone: 816-364-6446